Focus on your business vision, while we'll take care of the rest.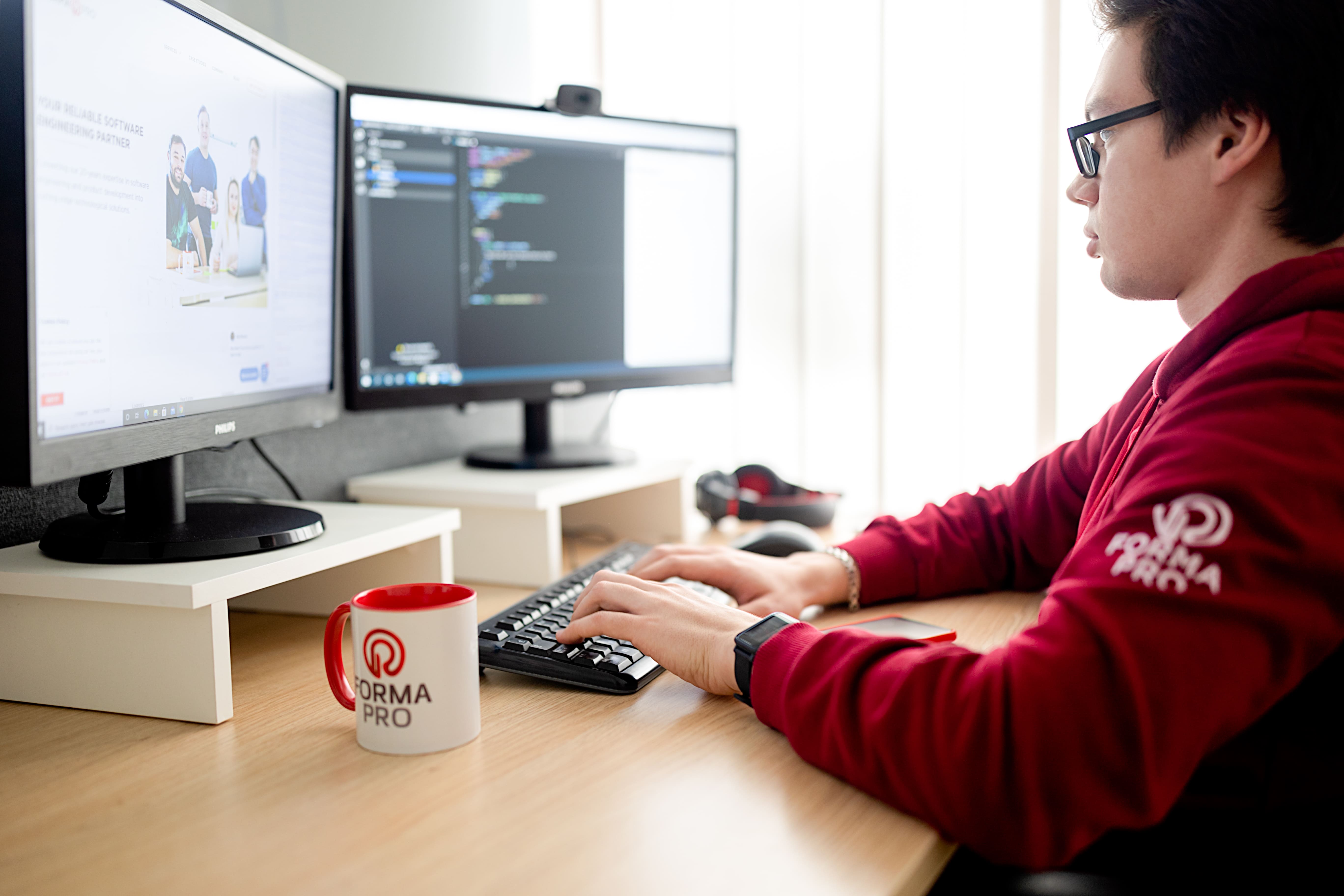 Strategy

We dig deep into your goals, data, and needs to create a digital strategy for success.

Design

Our design process is methodical and creative to be focused on achieving your goals.

Delivery

We are passionate about our work and use technology to achieve our goals, not for the sake of technology itself.

Support

We are responsible for our solutions and stay at your disposal after your vision is implemented.
What you are going to get with us
We take the best of the experience accumulated within the last 20+ years of our activities. Your product is going to be considered from both business and tech-related angles based on which we are going to create a long-term software engineering strategy. We do take it personally. 
Go-to-market faster

Scalable solutions

Highest code quality

Strong security

Multi-platform based
Tailored DevOps practices
Signing NDA 

We do care about security of your product, so this step is considered as the most crucial for us. You can send your corporate NDA or choose ours, whatever suits you best.

Understanding your needs 

This stage is represented in a couple of meetings to get to know each other, see how we could help you and discuss your requirements to be max. on the same page with your vision.

Proposal

You get a proposal, which includes a work model in a form of a draft contract and rough budget estimation.

Discovery phase

This stage is the most important phase as we go through the requirements and transform them into the detailed product plan, finalizing the budget and the schedule. See below for the details.

Signing the contract

Here everything begins

Delivery

It goes in sprints, so you see product increments as it goes. Each increment to be tested, demonstrated and accepted separately.

Product acceptance

This is when final acceptance of product to happens. 

Support

We are responsible for our work so you get your team to support initial release.

Moving forward

MVP is just a beginning 🙂
Your budget under your control
Before taking any practical steps we always provide max. clear picture about what budget may be needed for implementing your vision. This relates as a rough estimate after having received your inquiry as way more precise pricing after better understanding what is to be done. Our pricing policy is flexible so that we could adjust the scope of the collaboration to your budget. Thus we can downscale or upscale the delivery process navigating between your product and budget expectations.
Technologies we work with
Product centered approach
First and foremost, we invest plenty of time and effort to transform your vision into a plan that could be followed to build the product you need. You work hand-by-hand with our product manager and business analyst to help your requirements to be converted into a set of user stories with wireframes and clear acceptance criteria. The better prepared you're – the faster the phase is, but in fact, you don't have to be prepared at all as our discovery process is designed to fit the cases when our customers have just a bright idea.
The вiscovery process goes in the iteration pretty much the same way how the product development goes. Each iteration takes just a couple of days and ends with a refined backlog. We start with the idea then split it into epics breaking them into individual user stories following INVEST principle.
Industries
We're focused on industries centered around data security,

Big Data & ML algorithms, cloud-based and scalable microservice-oriented architecture.
FinTech

We assist FinTech startups by creating secure, scalable and banking regulatory compliant web and mobile tech-savvy solutions. Our software engineers solve various challenges connected with finance data security, architectural reliability, third-party requisites and much more.
Stand to Gain with Forma Pro
High Seniority Level

We only acquire strong middle and senior specialists to guarantee bug-free and first-class product delivery.

Complete Immersion

Our teams are completely committed to your cause whether they be integrated into your team or as an independent unit.

Transparency

We guarantee unhindered communication and timely responses on feature requests throughout the whole duration of your project.

Flexibility

We build tailored teams to suit your needs and adjust our internal processes to ones on your end.
Tell Us About Your Project
Our customer success department are receiving your inquiry
Reaching you out within max. 1 business day
Reaching with you a common ground
Getting the ball rolling